Accredited Employers
Silver Award
Servomex
Servomex is the first employer in East Sussex to be accredited with a Wellbeing at Work Silver Award, for workplaces with 50+ employees.
As part of their Silver award application, Servomex evidenced their menopause policy with practical tips for managers to support staff, as well as a range of other policies related to wellbeing such as mental health, volunteering, neurodiversity and flexible working. They are particularly proud of how mental health and wellbeing has become embedded in the company's culture through a range of interventions. Some examples of what they have put in place are: MHFAider's, provision of workshops – including all Managers and Team Leaders being trained in Mental Health Awareness, senior leaders talking about mental health and sharing mental health information through various forms such as on noticeboards, digital screens and by email.
In addition to having good policies in place and regularly updating staff of any changes, Julie Burridge (Health and Wellbeing Manager) feels it is important for wellbeing and other hard-to-talk-about subjects to be part of everyday conversations. "It's not about how much money you have to invest – we don't have a big budget for wellbeing, but to be constantly talking about mental health through different communication channels and to train managers to do it as well." This approach has also helped to retain and recruit staff in a very competitive industry. One staff member stated: "I have never seen a company install an openness like Servomex. The organisation genuinely cares about wellbeing and provides somewhere to go for support – it's not just a tick box exercise".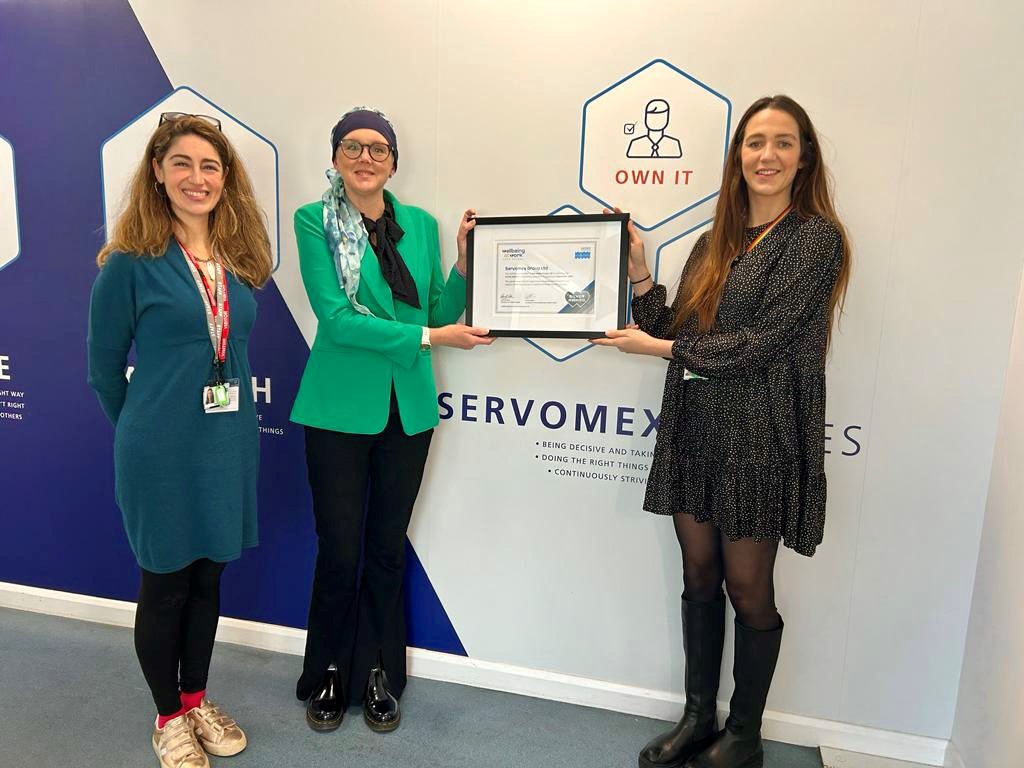 Bronze Award
Wealden District Council
The council is the first employer in East Sussex to be accredited with a Wellbeing at Work award, achieving Bronze award status for workplaces with 50+ employees.
As part of their award application, Wealden has implemented a range of initiatives and programmes that support staff wellbeing. These included Coffee Roulette – a virtual coffee meet randomly pairing two staff members from across the company, cycle to work scheme, flexible working and the introduction of mental health first aiders.
Wealden District Council's portfolio holder for Human Resources Councillor Roy Galley said, "Wealden council has a reputation as a good place to work and we take great care in looking after and valuing our staff. This award is a testament to the work those within the council have done over a long period of time.
"I would like to thank the officers who helped us achieve this award and we are very proud to be the first council in East Sussex to gain this accreditation."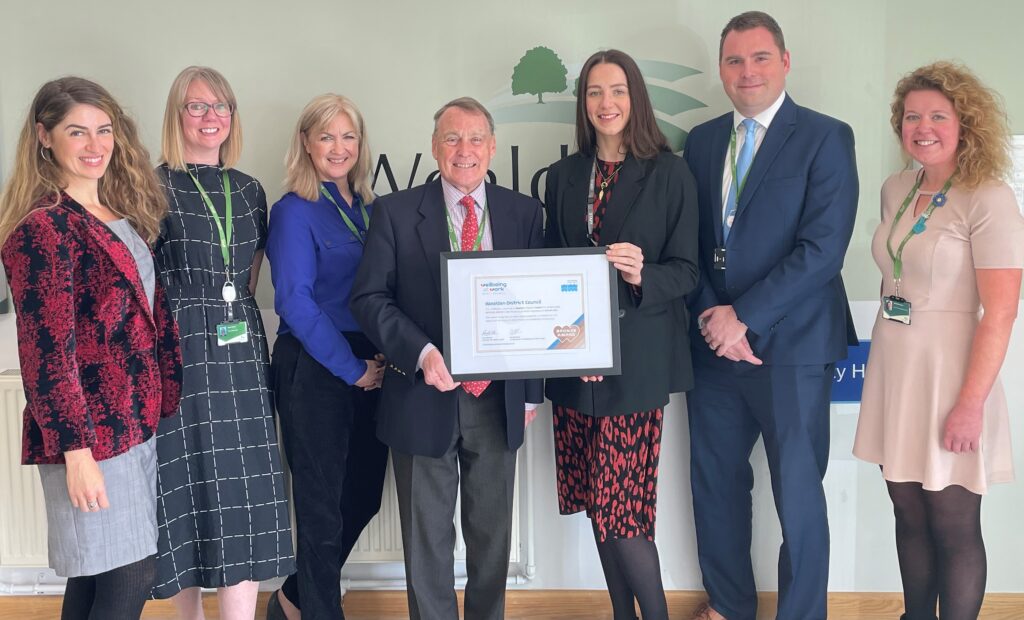 Servomex
Servomex is the first private sector employer in East Sussex to be accredited with a Wellbeing at Work Bronze Award status for workplaces with 50+ employees.
Some of the successful interventions evidenced as part of their award application were the provision of mental health awareness training to all 75 managers as part of their management development programme, and having mental health first aiders who work closely with managers to support staff. Both have contributed to creating an organisational culture that supports staff wellbeing and open conversations about mental health issues. An employee stated: 'I am proud of the way Servomex treats its employees, which distinguishes us from other workplaces in the area'.
The key for Servomex' success, according to their wellbeing lead Julie Burridge, is the ongoing promotion of mental health first aiders, and to have the buy-in from the senior leaders. To Julie, taking part in the programme and pulling all of the evidence together helped realise how much the organisation had achieved in terms of wellbeing. "It was great to reflect on what we have accomplished".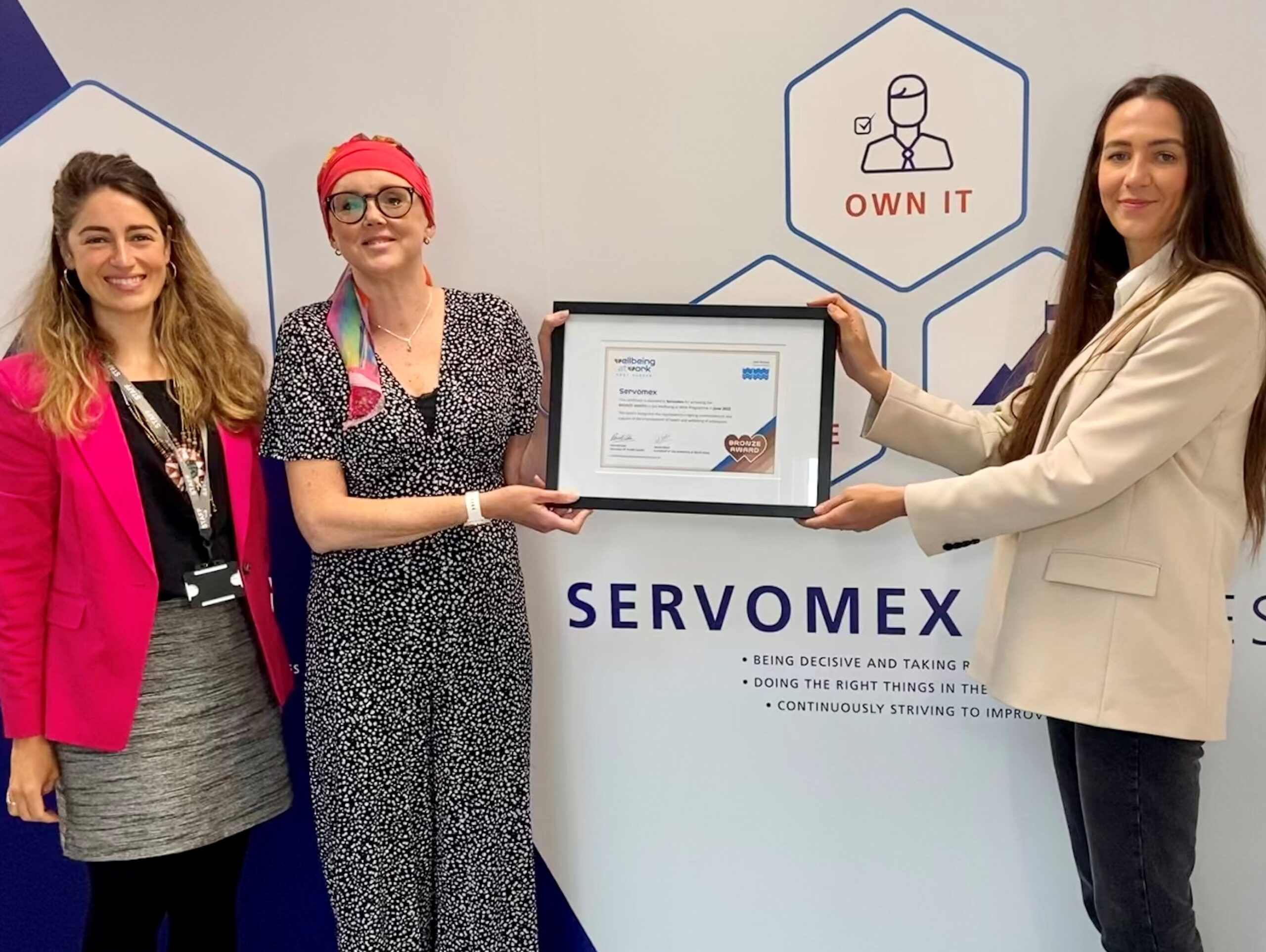 Sylvania Lighting
Sylvania Lighting has reached Wellbeing at Work Bronze Award for workplaces with 50+ employees with innovative interventions, including an active travel map produced in partnership with Living Streets and regular self-led walks around the industrial estate in Newhaven, where they are based. The weekly and monthly walks have been beneficial not only for wellbeing and team building, but also helped staff explore and understand the potential of their local area, historically seen as just a drive past.
Undertaking the accreditation has provided them the structure they needed for their wellbeing initiatives, and helped them bring their workforce together through training, wellbeing events and walks in the local area. All initiatives have received good feedback from employees, especially the training offer, with some members of staff applying their new skills in their roles and seeing good results. The accreditation enabled them to offer Mental Health Awareness training to all managers, which led them to engage staff members who hadn't been engaged previously and to show the company's commitment to wellbeing in a post-Covid environment, where staff morale was low. The HR team's hard work has paid off. Staff feels there has been a huge cultural change in the organisation over the past year.
To Wellbeing Lead Adam Woolcock, 'from a company and personal point of view, I would promote the scheme to any organisation that wants to develop employee wellbeing. Looking forward to building on this in the future'.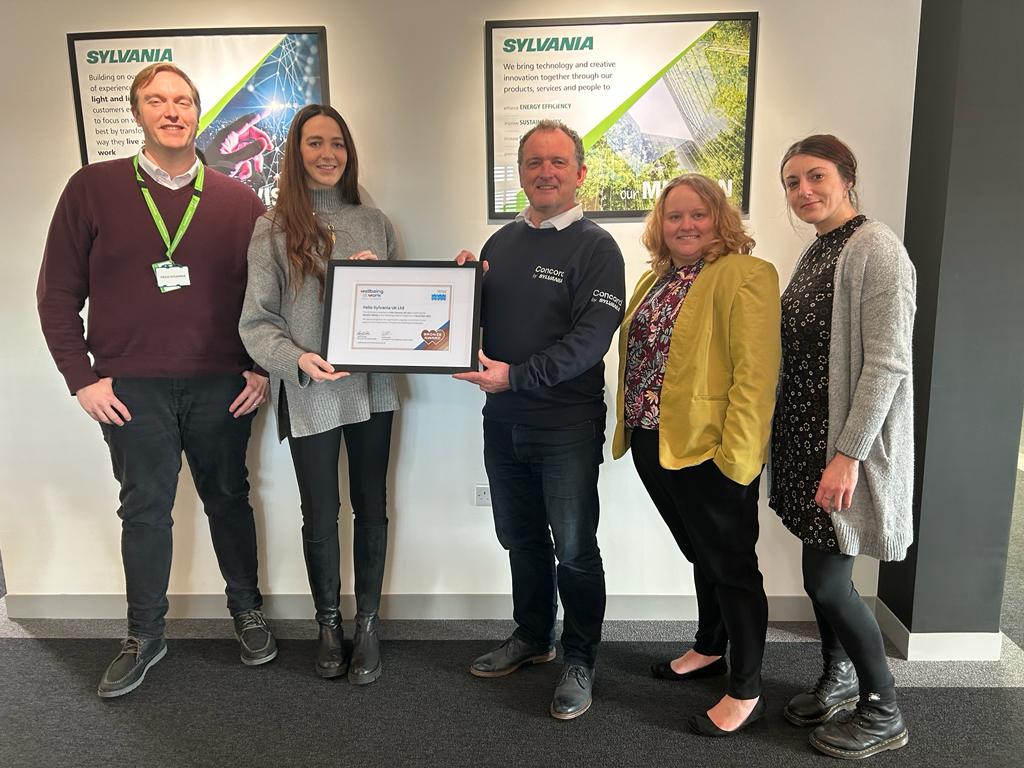 St. Wilfrid's Hospice
St Wilfrid's Hospice was awarded with the Wellbeing at Work Bronze Award in January 2023.
As part of their award, St Wilfrid's convened a Mental Health First Aider working group in the organisation, to bring together the 10% of the workforce which are trained in MHFA to help shape the organisation's wellbeing initiatives and deliver its mental health action plan. One of the benefits of this approach has been to allow staff to be involved in the decision-making and give them the ownership of the process, instead of wellbeing improvements being solely 'top down'. They have also utilised internal skills to enhance their wellbeing offer, e.g. yoga and holistic therapy sessions led by staff members, team leaders sharing their own lived experience of mental health and their top tips on wellbeing. HR Operations Lead and Wellbeing Lead Stephanie Green said ''we are proud that staff are leading the way on our wellbeing initiatives''.
When asked about wellbeing at St Wilfrid's, a member of staff stated ''the communication and support in place for staff is the best of any organisation I have worked in… It is a wonderful place to work for my own wellbeing''.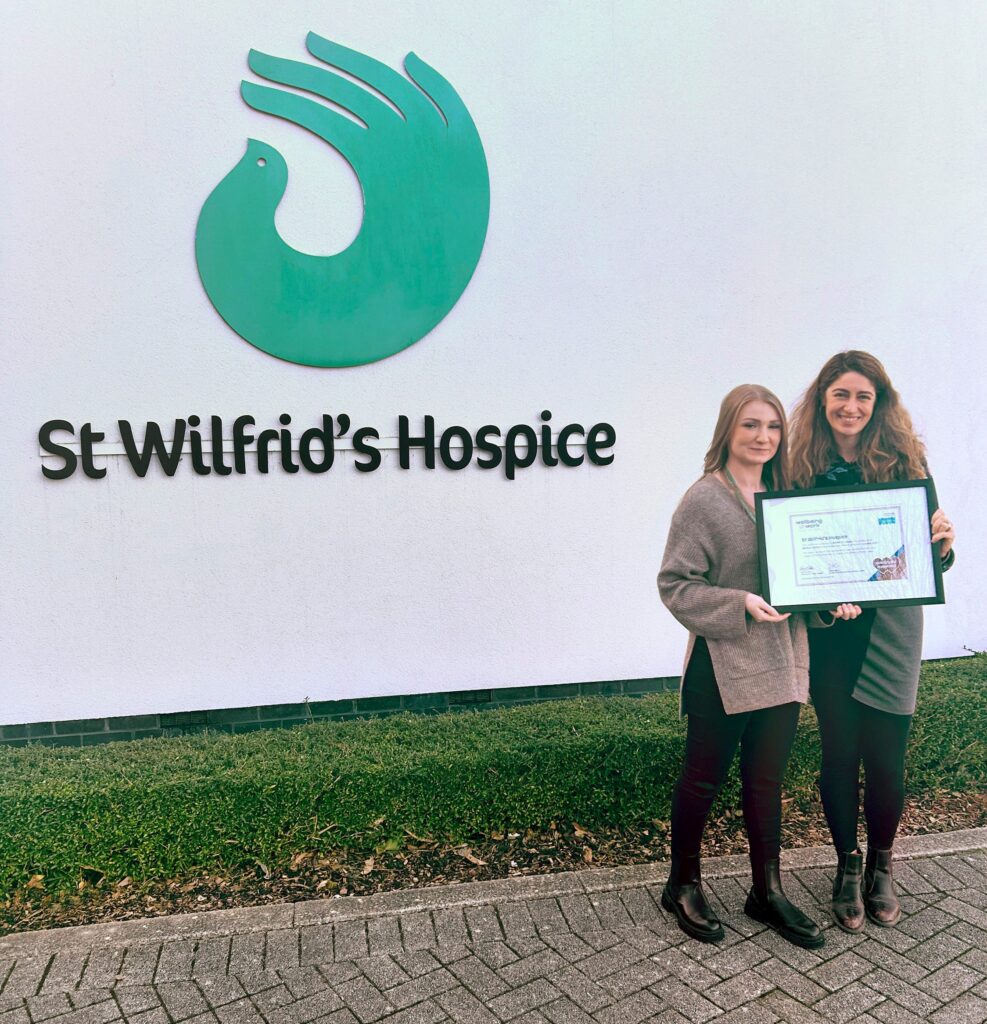 FSN Charity
FSN Charity has reached Wellbeing at Work Bronze Award in January 2023. One of the best achievements FSN highlighted from their wellbeing journey was undertaking a formal staff wellbeing survey. This survey allowed them to have a good insight into staff health as well as providing staff with an opportunity to feedback anonymously what support would be helpful for them. FSN has sought a supportive environment in their organisation by encouraging an open-door policy, so that staff feel able to discuss any concerns with management as well as being signposted to support services where necessary. As a result, to their staff 'the organisation couldn't do more to show they care about people'.
Jackie Earl, their HR Manager and Wellbeing Lead, found that the training provided by the programme has been very helpful. Training key members of staff in MHFA has helped to boost their confidence in talking to team members about mental health when issues arose. The award criteria felt daunting at first, but the support received from the Wellbeing at Work team and the regular check-ins have been useful and a great motivator. Overall, she feels that the process has been brilliant, and particularly likes the networking sessions as it gives the opportunity to learn from other employers.
Small Business Bronze Award
Ridgeview Wine Estate
Ridgeview is the first employer in East Sussex to be accredited with a Wellbeing at Work Small Business Bronze Award. Some of the successful projects they have launched as part of their wellbeing journey are implementing a cycle to work scheme, charity giving through payroll, a healthcare cashback scheme, mental health first aiders and becoming a disability confident employer. Due to the nature of their business, they take great care in promoting MSK injury prevention and provide manual handling training too. As put by their employees, 'The company embraces continuous improvement, is open to feedback from staff and is supportive of people across all stages of life. The CEO is very visible and approachable. It's a great place to work.'
A challenge of having seasonal workers is ensuring everyone feels truly part of the organisation. Ridgeview ensures that all staff updates are filmed and available to rewatch, which ensures that all staff have access to communication channels and the ability to be involved in decision making.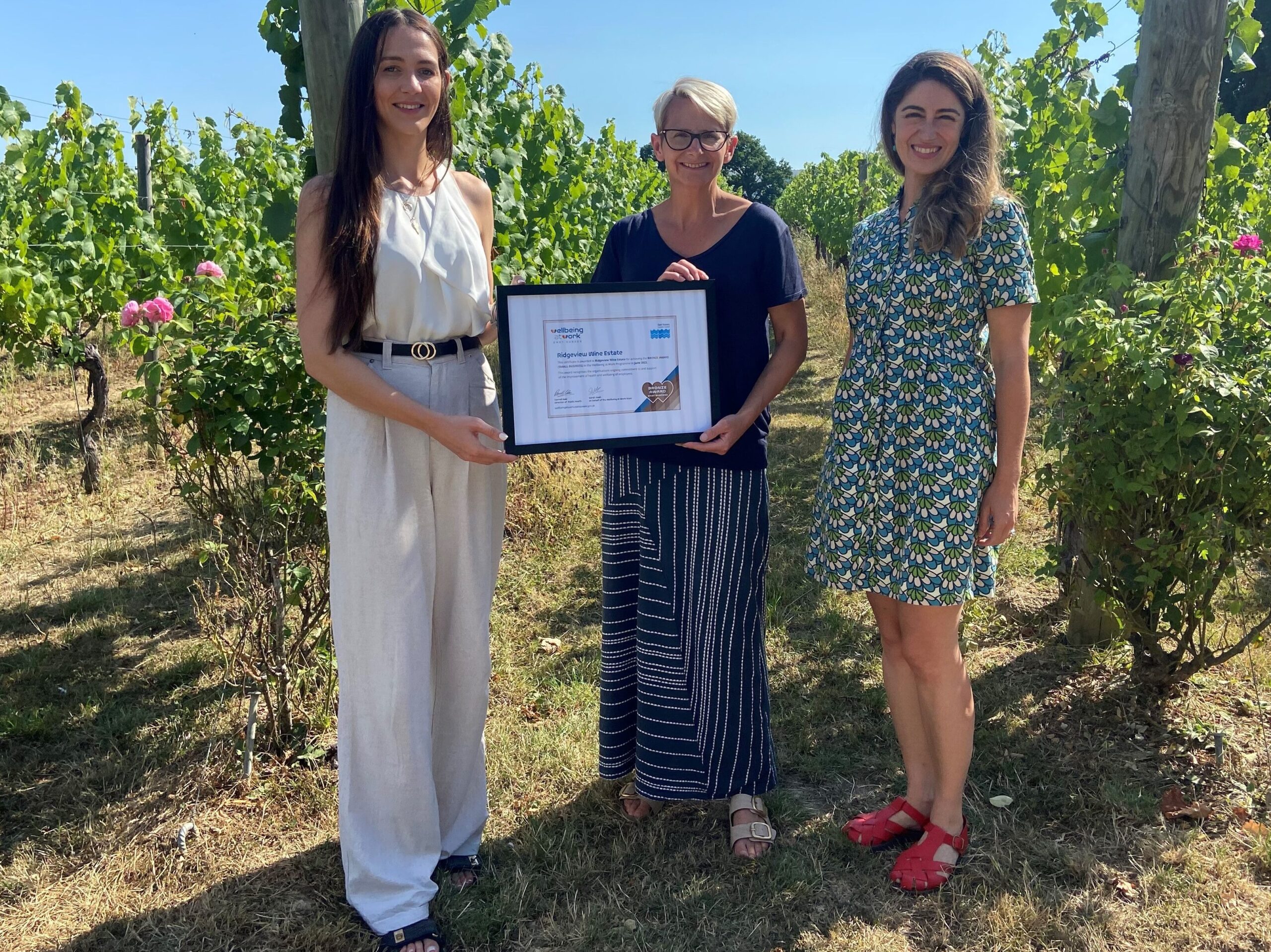 Industrial Construction (Sussex) Ltd
ICS Roofing is the first construction company in East Sussex to be part of the scheme and be awarded with the Small Business Bronze Award.
As part of their award, the company has created a wellbeing folder in the shared drive, with wellbeing information and links for staff to seek information privately in their own time. They also run frequent Toolbox Talks on site for staff and sub-contractors, on particular topics such as mental health, musculoskeletal health and general wellbeing. Lunch and learn sessions are held regularly in the office, where staff come together to not only refresh their skills but also have wellbeing conversations.
Due to the various awareness training provided, managers feel confident to have wellbeing conversations when required and signpost staff to further information and support. The company wants to ensure everyone is supported. Undertaking the staff survey has allowed the opportunity for staff to feel that they are valued and that everyone has a voice.
All these initiatives have led ICS Roofing to create a truly open culture in a predominantly male industry, surrounded by a lot of stigma and stereotypes. An Impressive achievement! 'Taking part in the awards scheme has given us the framework we needed to co-ordinate all our wellbeing initiatives', summarized Chantalle Sullivan, the Wellbeing Lead and PA to Operations Manager.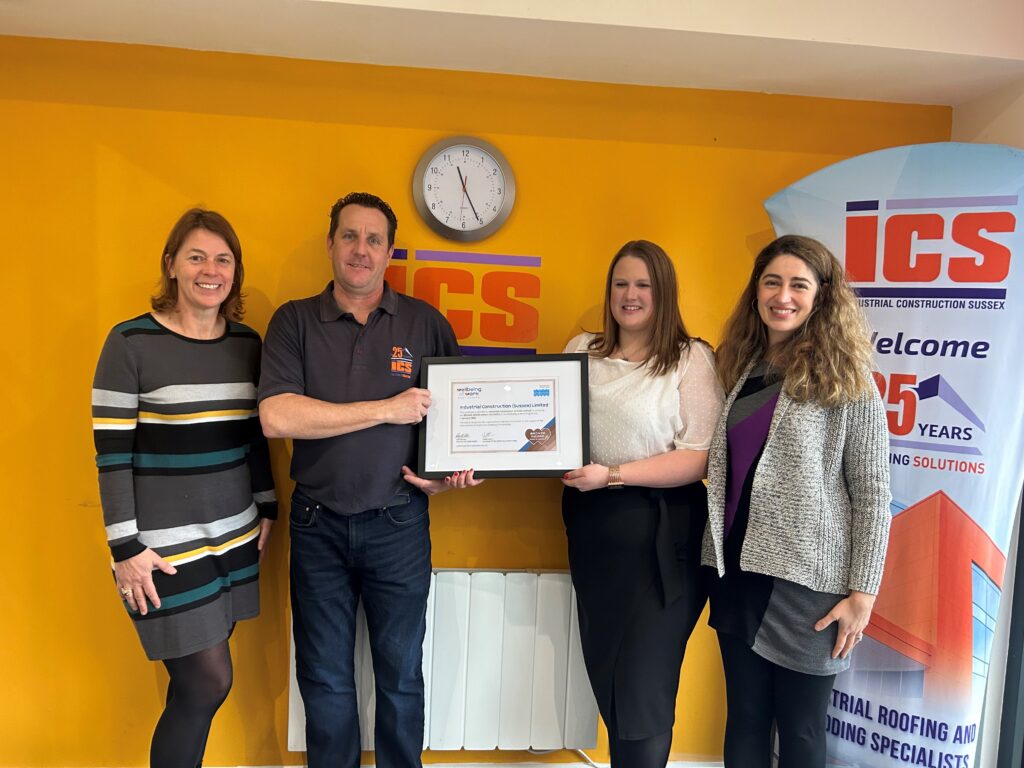 Gradient Consultants Ltd
Gradient Consultants, a company with six employees based in Eastbourne, was awarded with the Small Business Bronze Award in January 2023.
Through weekly pulse surveys, a WhatsApp group where they check-in on each other daily and Monday meetings where everyone shares their priorities and concerns for the week, and has the opportunity to ask for support, the company has created ways of having everyday conversations about wellbeing, keeping a sense of connection between colleagues and fostering an open culture. As building surveyors and asbestos consultants, the nature of their work can often see the team on site and coupled with their hybrid working policy, which allows the freedom to work from home, they regularly work independently, making those check-ins a great way to bring the team together and create a safety net for them to fall back onto and get support. The Friday Pulse surveys are a simple way to assess staff morale and act quickly if any issues arise. They also provide staff with the opportunity to express their gratitude to colleagues, which reinforces a sense of connection. Their Teams Wellbeing Channel is always kept fresh and updated, which is a great way to share information and reminders. With their awards journey, the company wants to ensure there is support available to everyone, and wellbeing conversations are kept current and at the forefront.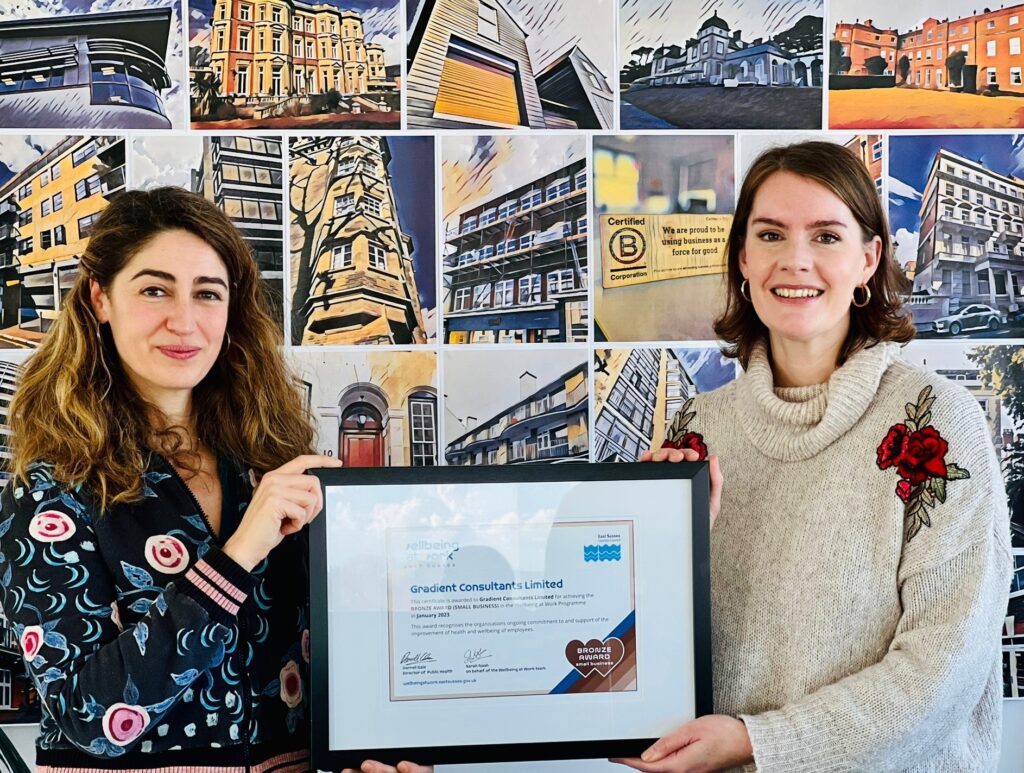 Commitment Award
Design Specific Ltd
Design Specific Ltd has achieved Commitment Award in a unique collaborative process. A Laughton-based manufacturer with just eight male employees, the business made the most of being a small workplace. A staff health and wellbeing survey was conducted, and the results were discussed collectively at the monthly staff meeting. Instead of choosing one action to be implemented by the business based on the survey results, the team decided to set each one an individual target to work towards depending on their individual health needs, which ranged from losing weight to cutting down alcohol intake and on the number of cigarettes smoked. This way they can all support and celebrate each other's successes.
To Bill Taylor, their CEO, the most challenging aspect of the process was to get started and find the time to do it, even though they knew that investing in wellbeing was important. But having the ongoing support of the Wellbeing at Work team and one of their staff members trained as a 'Workplace Wellbeing Champion' was helpful to keep the motivation going and to access ideas and information about the local support services available.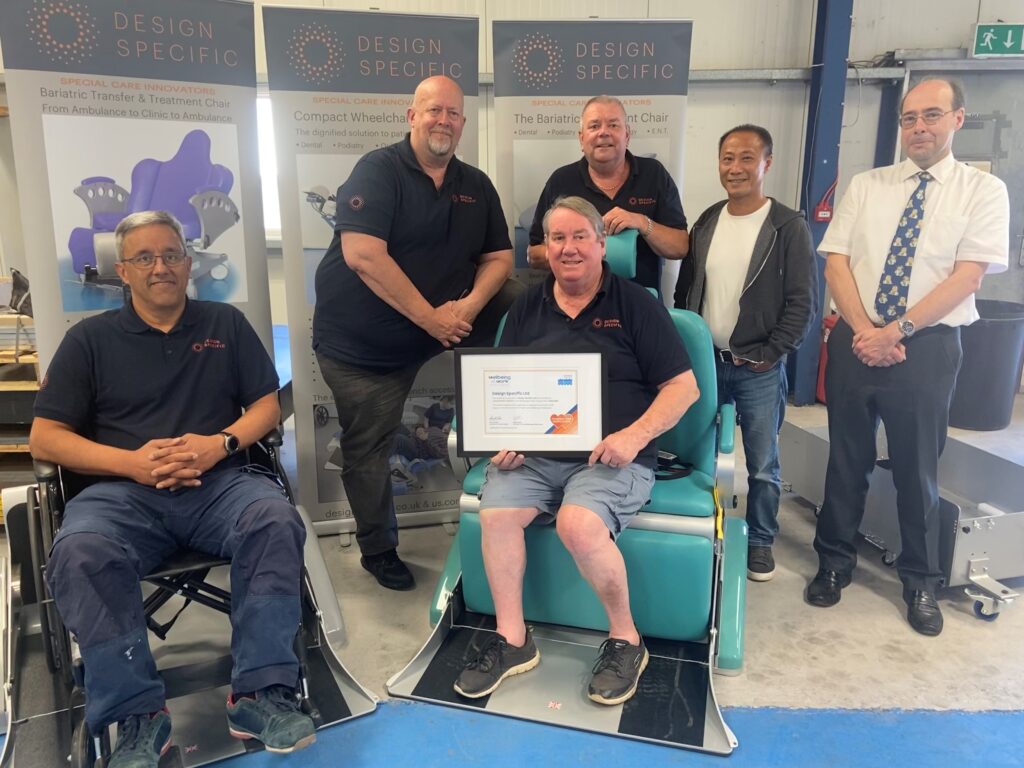 The Prideaux Group
The Prideaux Group are the first employer in East Sussex to be accredited with a Wellbeing at Work Commitment Award – an even more impressive achievement for a small group of care homes who have also been dealing with ongoing challenges caused by the covid-19 pandemic.
As part of their award application, an anonymous staff health and wellbeing survey was conducted. Operations Director, Denise Argent, and Registered manager, Ella Gallop, found that the survey was a useful and insightful activity to undertake as it helped them to understand what areas of health and wellbeing that staff would like further support with. After analysing the results, Ella and Denise found that a main concern for staff was sleep, which wasn't an area which had been highlighted previously. Off the back of this, they were able to share top tips for good sleep hygiene in staff meetings, as well as on their brand new wellbeing notice boards in the staff room.
The organisation is also arranging staff social activities such as bowling, and staff challenges such as a 'hanging basket competition', which are contributing to creating a positive, welcoming and open culture in the workplace.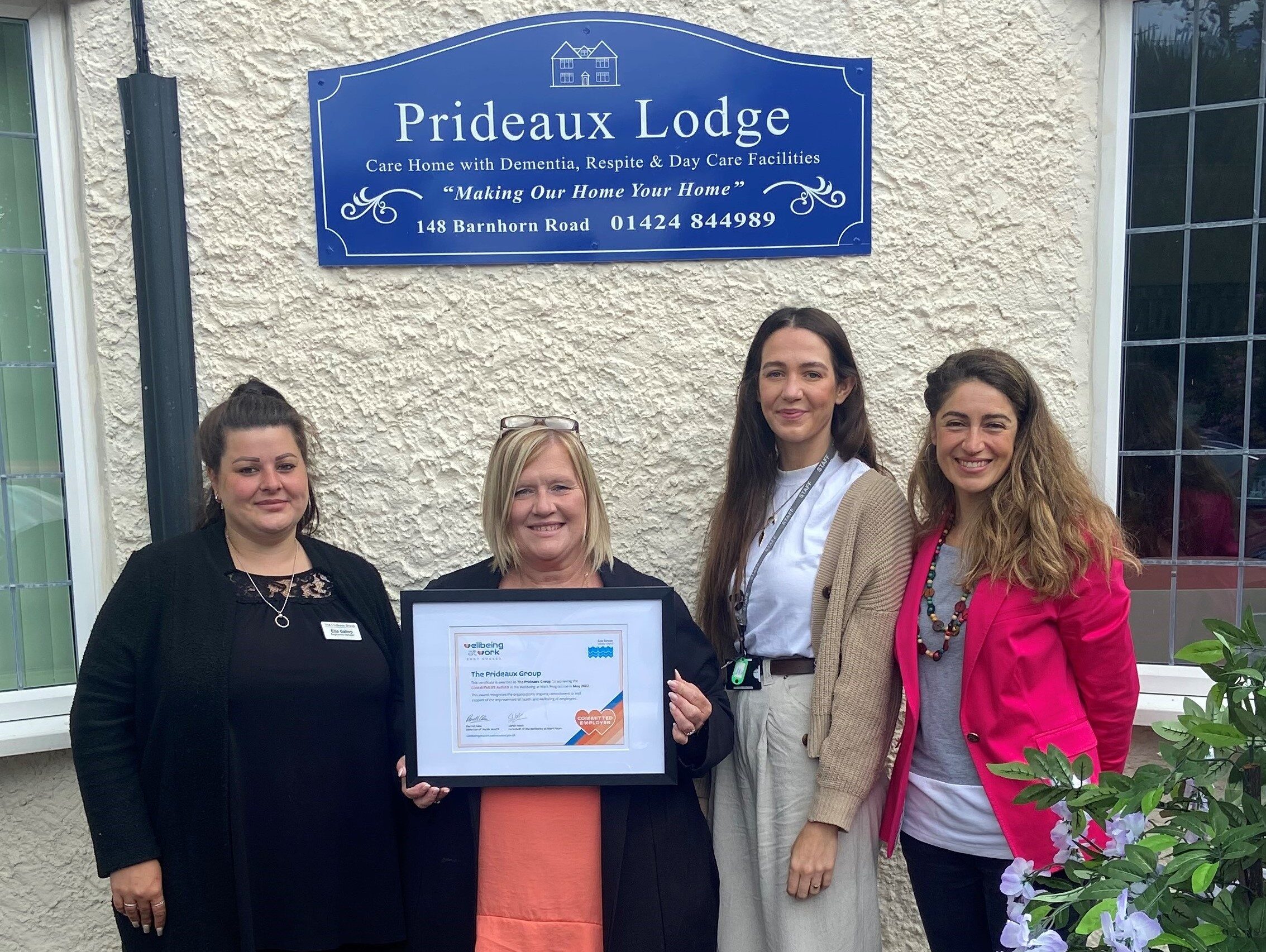 Age UK East Sussex
Age UK East Sussex have been accredited with a Wellbeing at Work Commitment Award, the first charity in the county to do so.
As part of their award application, the workplace has undertaken a staff health and wellbeing survey, as well as listening groups to follow on from this.
People & Development Manager, Claire Goater, and HR Advisor, Caroline Taylor, found that the survey was a helpful activity to undertake as has supported staff engagement, and the listening groups have provided an opportunity to delve into staff feedback in more detail. Claire and Caroline feel that undertaking the survey has helped to raise an awareness of mental health across the workforce. It has also built an appetite for everyone to get involved, with some staff members having since completed Mental Health Awareness and Mental Health First Aid training.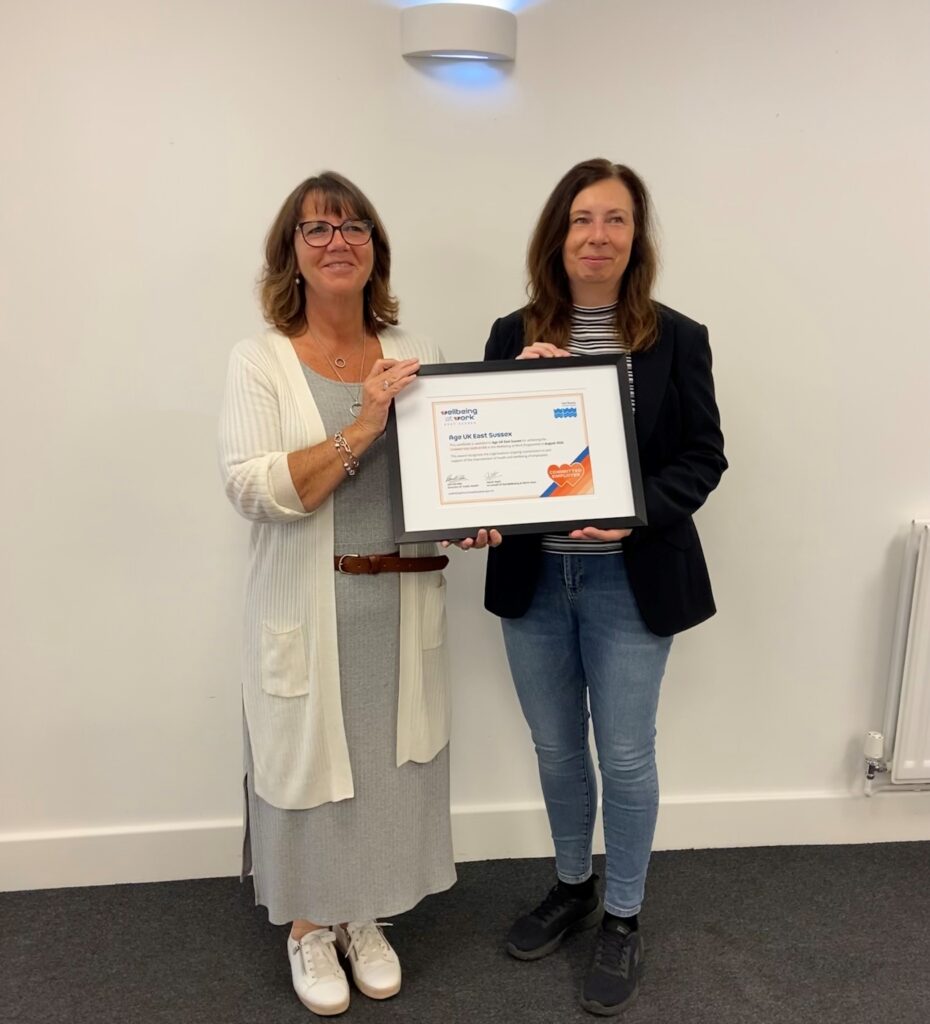 Affinity Select Insurance Services Ltd
Affinity Select Insurance Services Limited, a small business based in Uckfield, have been granted the Commitment Award in September 2022 – within 4 weeks of enrolling on the programme.
As part of their award application, the workplace has undertaken a staff health and wellbeing survey, which has been driven by two members of staff – Daisy Otway (general insurance clerk) and Naomi Penfold (trainee insurance clerk) who have taken on implementing the award criteria as a project.
Jenny Carter-Vaughan (Director) was motivated to undertake the award as it aligns with one of the company's core values, to look after each other, however wanted to ensure that employees bought into the award as opposed to it being communicated from the top. The organisation has also been working to upskill staff by enrolling team members on mental health awareness and workplace wellbeing champion training, as well as rolling out suicide prevention training across the whole workforce.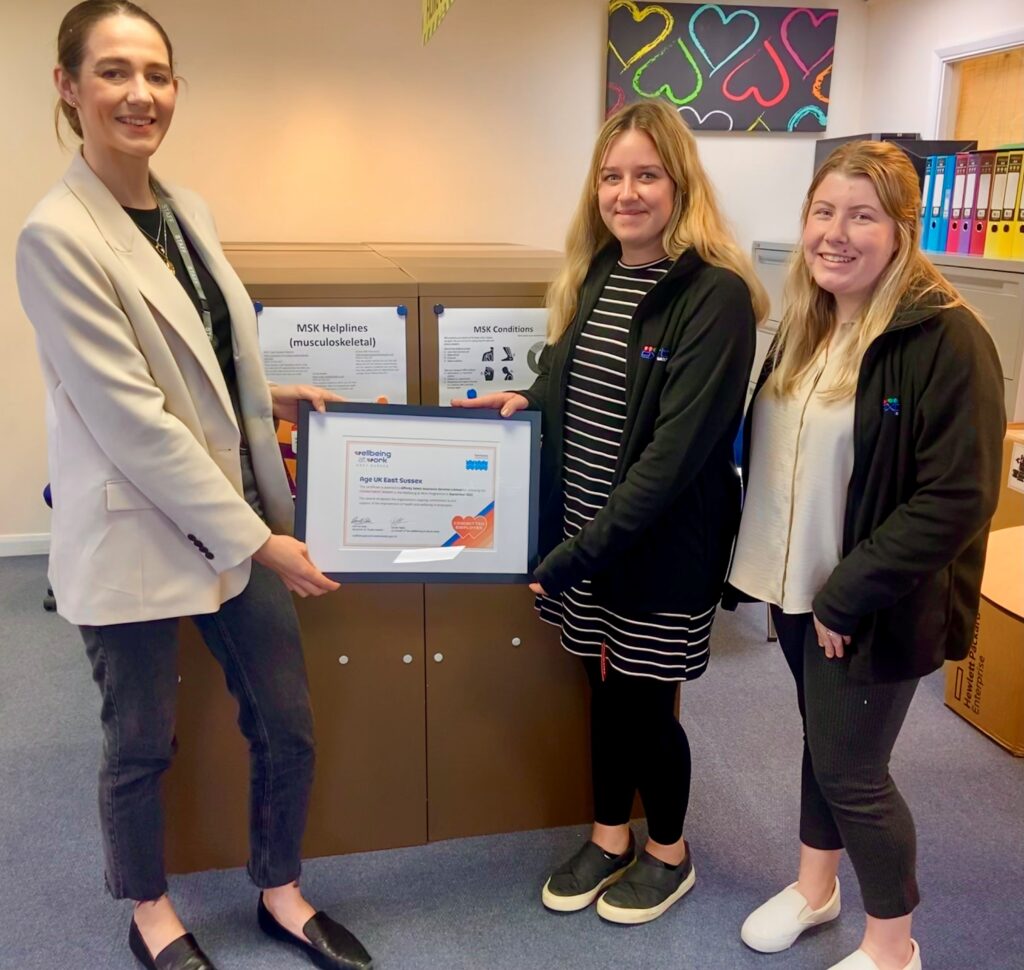 Wealden Community Care
Wealden Community Care are a domiciliary care provider with 53 members of staff, who achieved the Wellbeing at Work Commitment award in November 2022.
To achieve this award, they undertook a staff wellbeing survey – which generated the most responses the organisation has had for any staff survey. Wealden Community Care feel that running a holistic wellbeing survey and acting upon the results has allowed them to show their care for the workforce, and the staff themselves liked the survey responses being anonymous.
One of the key areas that staff indicated as an area of interest in the survey was getting more support with was sleep. As a result, a sleep fact sheet (including signposting) has been shared with staff, as well as fact sheets on menopause, anxiety and prostate cancer. Sharing fact sheets has seen an uptake in staff accessing support for wellbeing concerns, in particular the anxiety fact sheet has encouraged more staff to access the in-house Mental Health First Aiders for support. Sarah Ridley-Smith (Wellbeing lead) and Angela Wright (Director and Registered Manager) strongly feel that ''a supported employee is a productive employee, and the process has helped them to nurture'' staff, as well as helping them to consider and improve their approach to staff surveys by providing a structure and focus.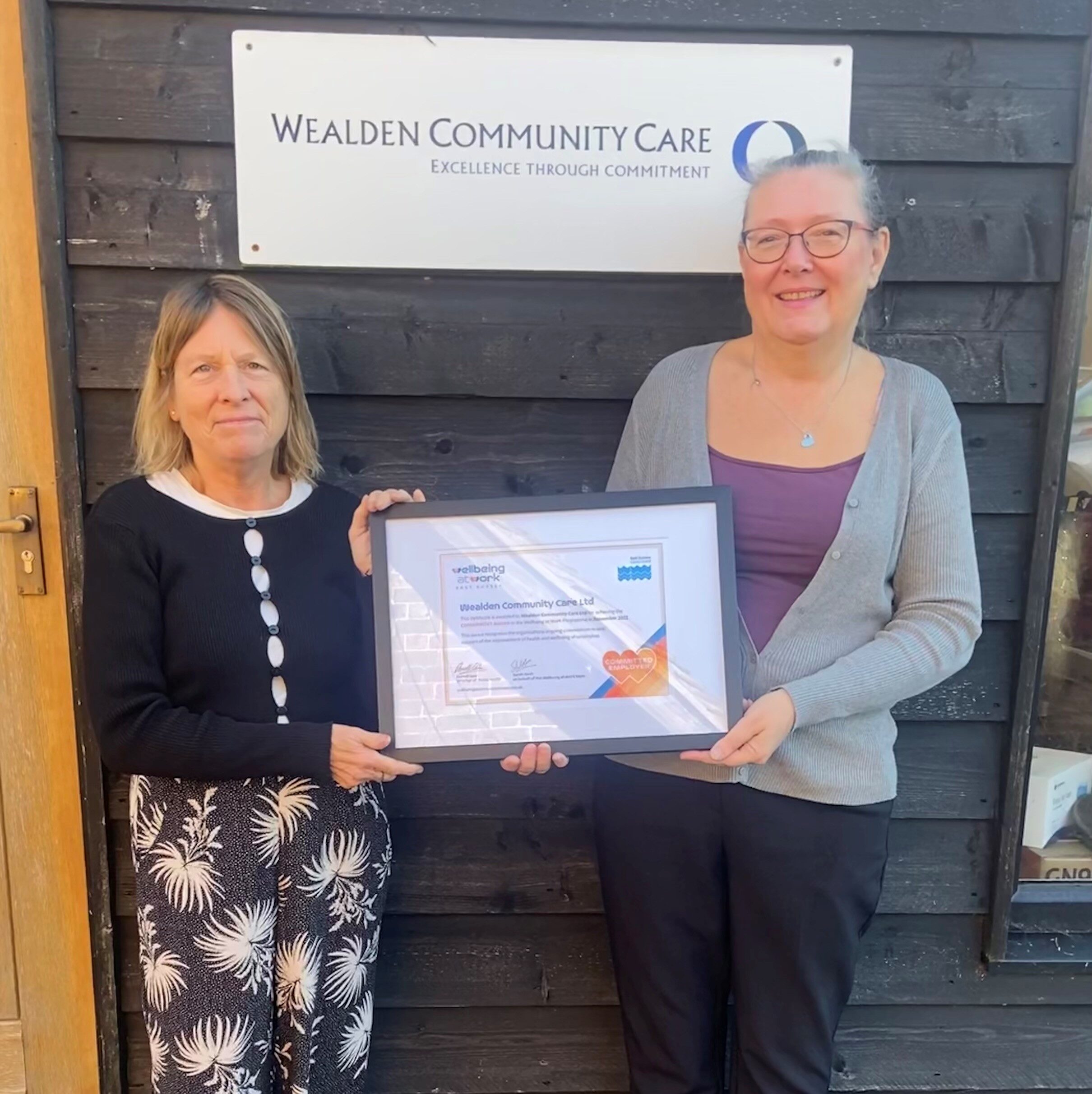 Fieldskill Ltd
Fieldskill Ltd provides local Sussex businesses with business essentials across four main areas of expertise: Packaging, Janitorial, Stationery, & Office Furniture. They have 13 staff based in Eastbourne and achieved the Wellbeing at Work Commitment award in November 2022.
By undertaking the staff survey as part of the Commitment award, the organisation now feels more in touch with staff having provided this formal opportunity for them to provide feedback. Fieldskill has been able to use the feedback from the survey to inform their offering to staff and have started providing Westfield Health (a health cash plan), as well as free fruit in the office for all staff. When asked about their experience of the Wellbeing at Work programme, Sacha Bowles (Finance Manager and Wellbeing Lead) said ''It's been a really supportive process, that I would encourage any workplace to take a look at. Our team is so important to us, if we can look after their wellbeing then in turn it will help our business. Wellbeing in the workplace is not a tick box exercise but a crucial area that must be addressed, which we feel very passionately about at Fieldskill.''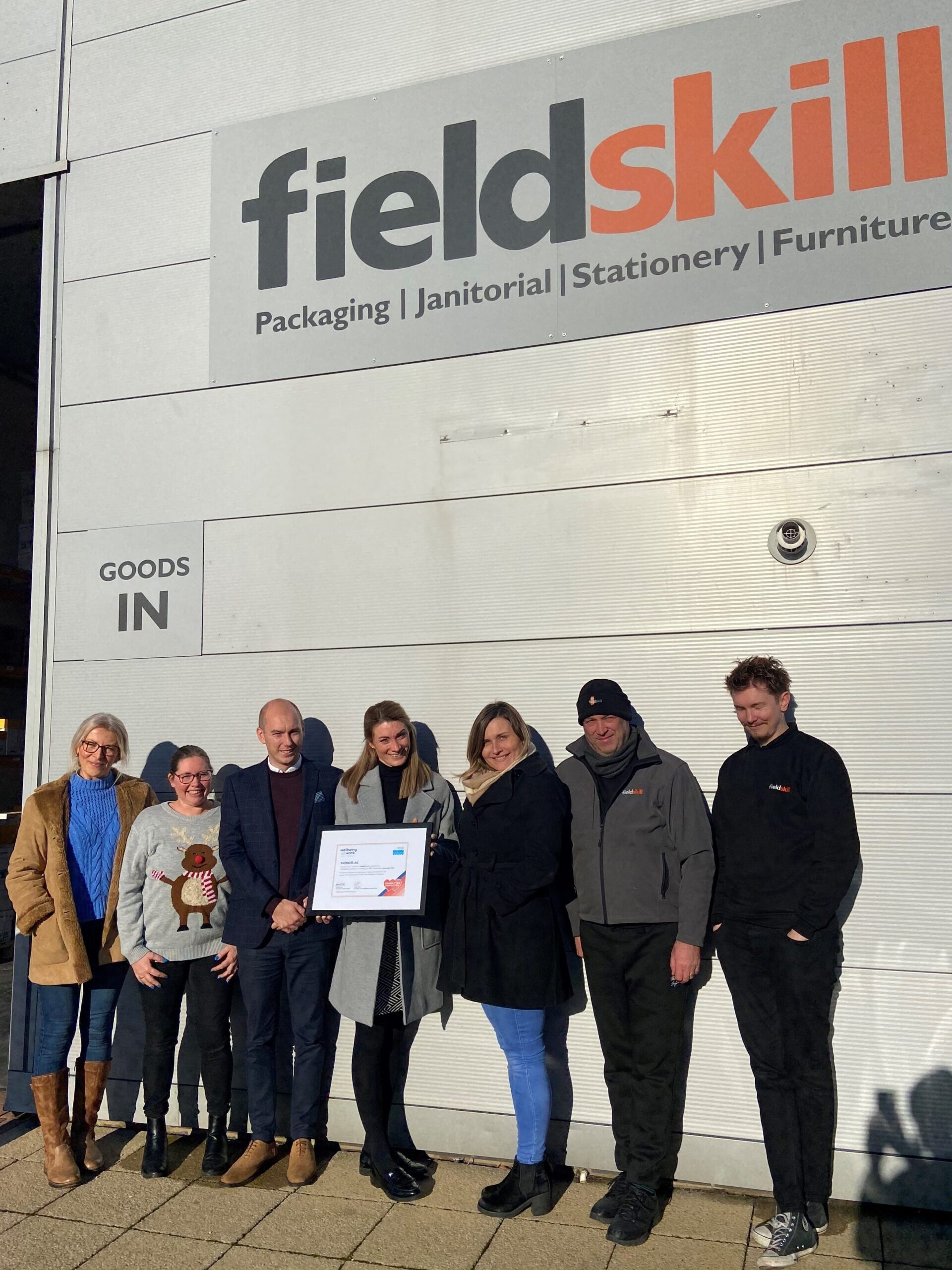 Knill James LLP
Knill James LLP, a firm of Chartered Accountants based in Lewes with a team of over 60 people, achieved the Wellbeing at Work Commitment award in November 2022.
As part of the award, the firm ran a wellbeing survey to understand the needs of the workforce. One of the highlights was being able to present the results to the team, to demonstrate how the firm values each person's individual views, and to discuss actions based on the survey results. Knill James ran two practical sessions following on from the survey – an introduction to mindfulness and a pilates session, which included exercises for good posture and ergonomics that could be done seated at a desk.
HR Manager, Tracey Tivey, has been working with colleagues who have completed Wellbeing at Work's Workplace Wellbeing Champion training to plan the campaigns and activities the firm would like to run in 2023. When asked about Knill James's experience of the programme, Tracey said, ''The framework provided has been great – we were already addressing our team's wellbeing, but the framework has given us a great structure to work within and enables us to direct our wellbeing initiatives in the best way to support the team.''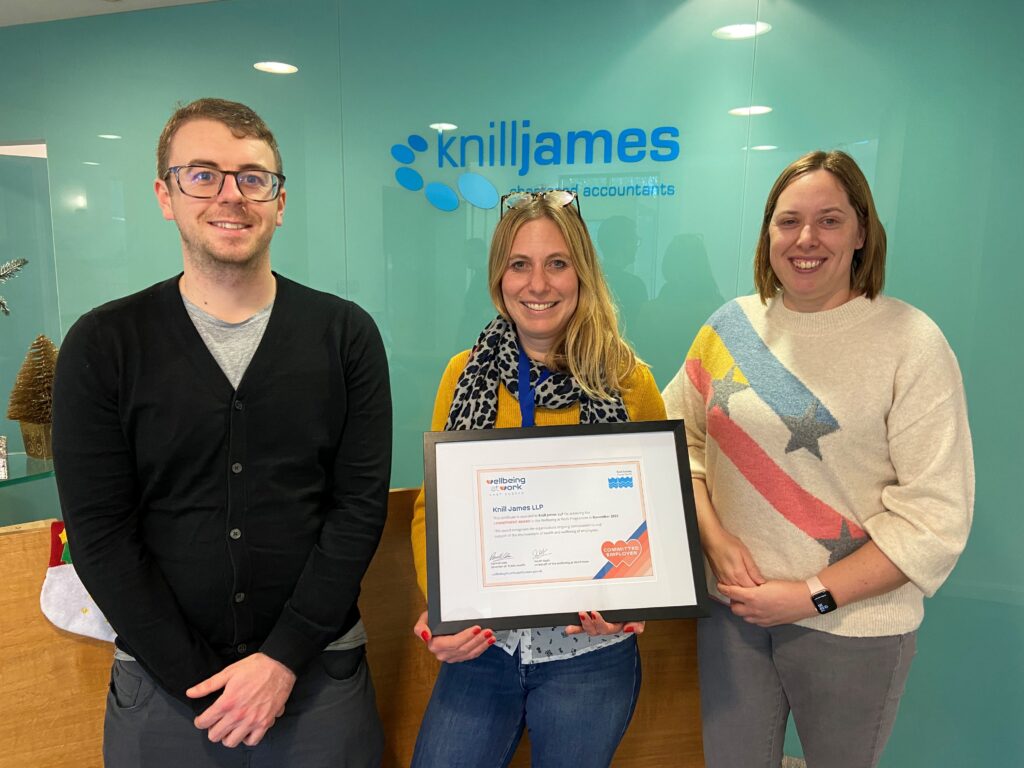 Spring Care PAs Battle Ltd
Spring Care are a domiciliary care provider based in Battle who achieved the Wellbeing at Work Commitment Award in January 2023 – an impressive achievement for a small company who has also been dealing with other challenges such as lack of time and the impacts of Covid-19.
This was the first time they implemented a formal wellbeing initiative and, as part of their award application, an anonymous staff health and wellbeing survey was conducted. Having a workforce largely made of lone and remote workers can be an extra challenge. This survey allowed them to not only have a good insight into their staff health and what support would be helpful for them, but also to bring them together as a team and show that the business care about their wellbeing. As a result, more information on sleep, healthy eating and other health topics has been shared with staff in their beautiful and carefully crafted newsletters. They have also promoted their in-house Mental Health First Aider Janet Mitchinson, which has led to a great response with more staff accessing this support. They are now thinking to expand on these successes and run a monthly drop-in session as an opportunity for their remote and lone workers to connect, increase their sense of belonging and support each other.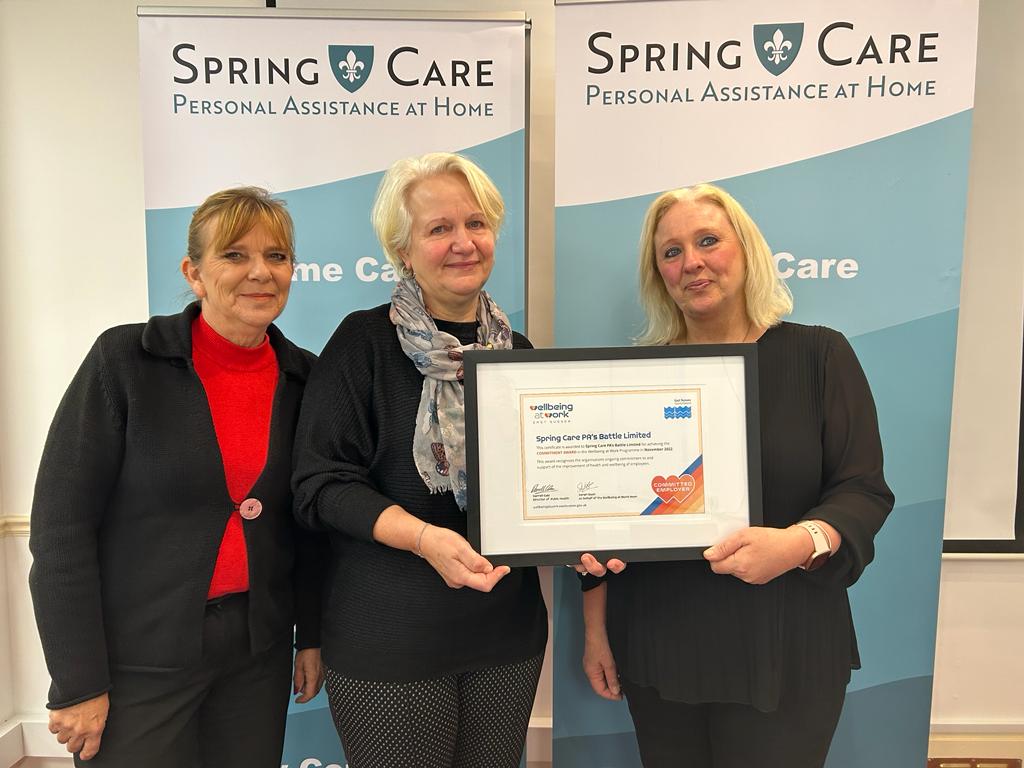 APAC Ltd
APAC (Academy of Play and Child Psychotherapy), the largest training provider for play therapy based in Uckfield with 20 employees and 30 contractors non-office based, have achieved Commitment Award in January 2023. Running an anonymous employee health and wellbeing survey was very beneficial. It not only gave their staff the opportunity to say more openly what they wanted, but it gave the organisation a great idea of what to focus on in terms of wellbeing. In order to have a more strategic approach and keep the momentum going, they decided to put together a calendar of wellbeing activities for the year based on the survey results, being the first one a 10k challenge to encourage staff to be more physically active with different options of participation, from walking to running or just cheering colleagues. The organisation has gone beyond and is now finalising their new Wellbeing policy for the workplace. They are also thinking of ways to have a wider impact and include their many contractors in their wellbeing activities.
To their Wellbeing Lead, HR and Office Manager Radek Kwietniewski, the training courses offered by the Wellbeing at Work Programme were really good and provided them with the confidence they needed to move forward their wellbeing initiatives. The support received from the programme has also been invaluable, 'the team is very approachable and ready to answer any questions'.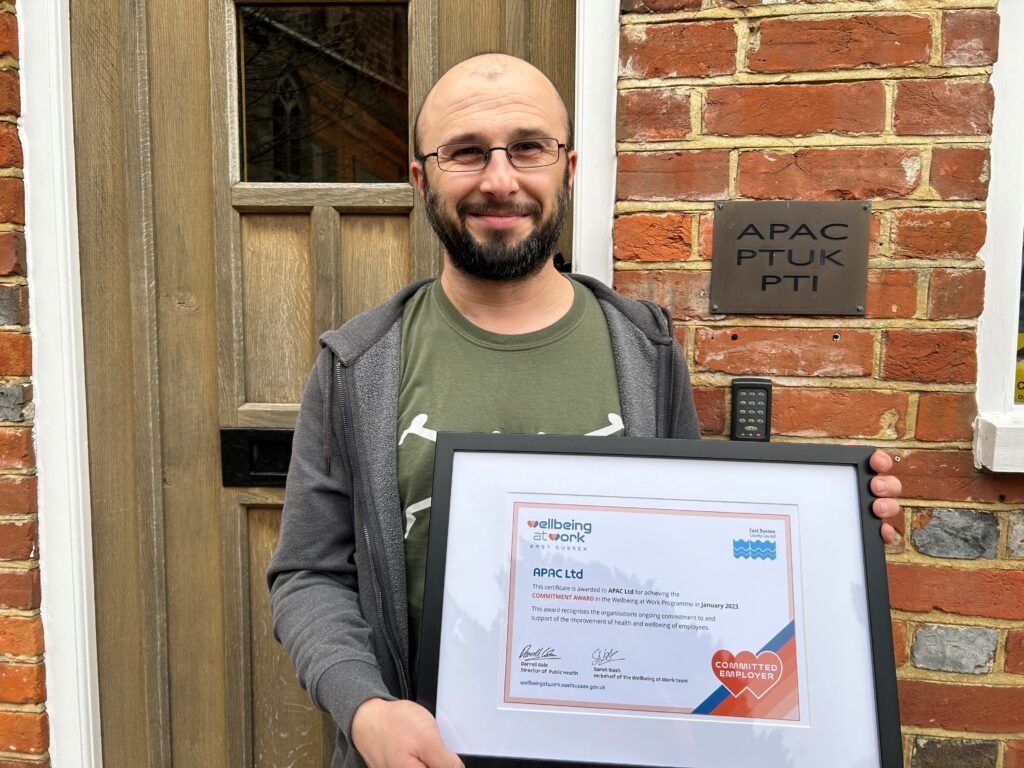 Media Coverage and Press Releases
The Carer Digital Issue #106, the publication for Nursing and Residential Care Homes (page 18)
East Sussex County Council, The Newsroom