The first annual Wellbeing at Work event!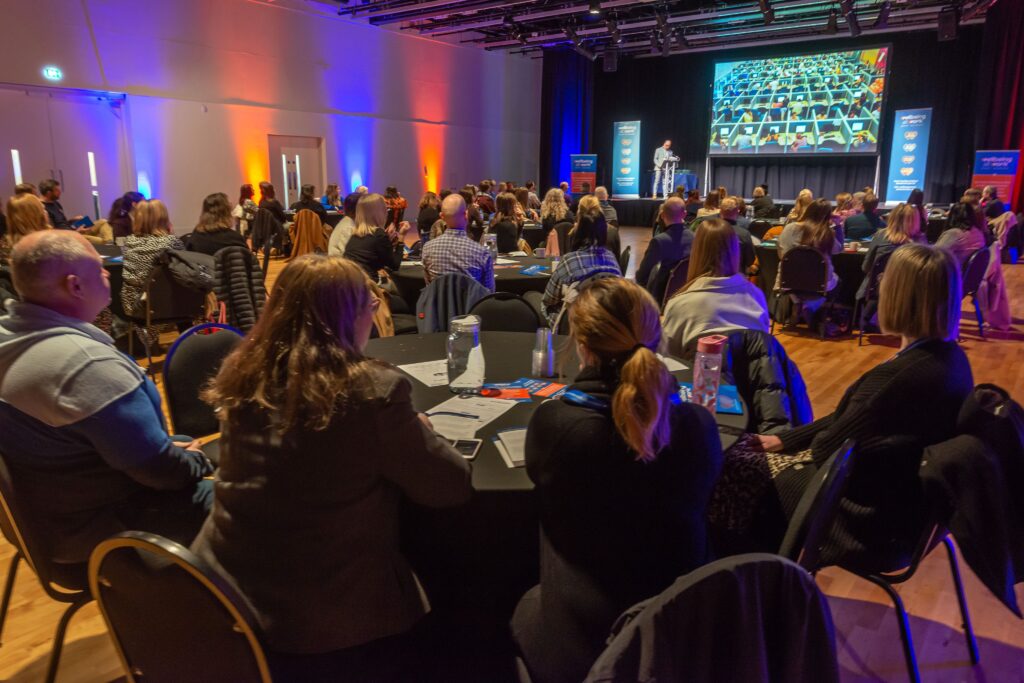 East Sussex employers committed to developing healthier and happier workforces have been celebrated at our first annual Wellbeing at Work Conference and Awards event last month at the Welcome Building in Eastbourne.
The East Sussex Wellbeing at Work Programme works with employers to share resources and deliver training, as well as providing an accreditation scheme which supplies a framework to businesses, to help boost the health and wellbeing of employees.
120 people from 59 different organisations joined us and Darrell Gale, Director of Public Health for East Sussex, to celebrate the achievements of all employers taking part in the programme. 25 businesses from a range of different sizes and industries were presented with their awards, with three of them receiving two awards each – Knill James LLP from Lewes, Affinity Select Insurance Services Ltd based in Uckfield and Servomex Group Ltd in Crowborough.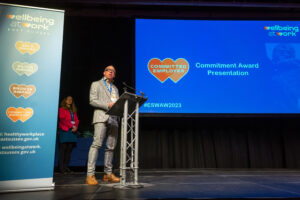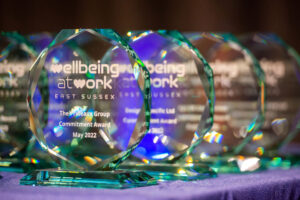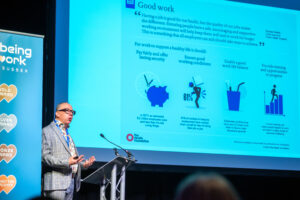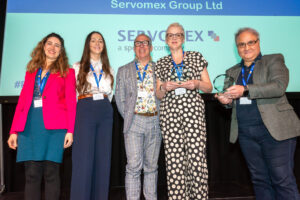 Industrial Construction (Sussex) Ltd is the first construction company in East Sussex to be part of the programme and were awarded the Small Business Bronze Award in January 2023. The wellbeing initiatives the company adopted include regular on-site Toolbox Talks for staff and subcontractors on topics such as mental health and musculoskeletal health, and monthly Lunch & Learn sessions where staff come together to refresh their skills and talk about general wellbeing.
Chantalle Sullivan, Office & Supply Chain Co-ordinator and Wellbeing Champion from Industrial Construction (Sussex) Ltd, said: "ICS are very proud to be the first construction company in East Sussex to be part of the Wellbeing at Work scheme and to have received the Bronze Award at the start of this year.
"The health and wellbeing of our staff is very important to us and joining this scheme has given us the framework we needed to co-ordinate and grow our wellbeing initiatives, so we are best placed to support our employees."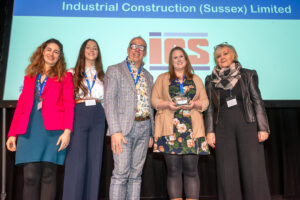 Cllr Rupert Simmons, lead member for economy at East Sussex County Council, said: "It has been fantastic to see so many local employers join our Wellbeing at Work scheme since we launched the initiative.
"Happy and healthy employees are key to the success of any business and I am delighted to see so many local businesses awarded for their commitment to improving the health of their workplaces.
"Investing in employee wellbeing through an awards scheme such as this can improve employee morale, motivation and productivity, as well as reduce absenteeism and staff turnover, and I would encourage all local businesses to join the programme."
The event was also an upskilling opportunity for local employers. We had exciting conference talks woven into the day. Katie Day and Dr. Roger Prentis from RDP International spoke about Supporting People During Midlife in the Workplace. Senior Policy Advisor at the Chartered Institute of Personnel and Development (CIPD) Rachel Suff talked about Supporting People's Mental Health and Financial Wellbeing, presenting some top tips and the CIPD's latest research on the topic.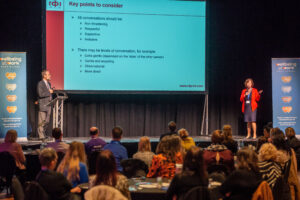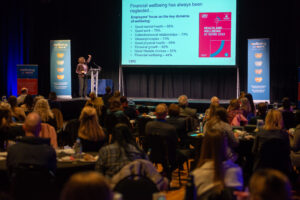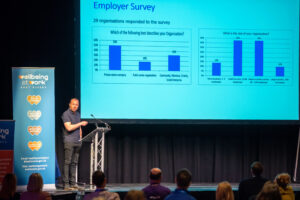 Case studies from awarded employers provided further workplace wellbeing knowledge with examples of best practice. Dani McDonald from Havens Community Hub, Small Business Bronze Award, talked about Implementing a Wellbeing Programme in a Small Workplace, and Adam Woolcock from Feilo Sylvania UK, Bronze Award, presented how to Change Workplace Culture through Wellbeing Improvements.
The Wellbeing at Work Programme was launched in the autumn of 2021, and the event also celebrated its first anniversary. There was a presentation from Mike Parker at Progress Health Partnerships about the programme evaluation and the findings from year 1.
A fun wellbeing activity to make music with boomwhackers sparkled everyone's creativity. A marketplace area had 10 stalls from different organisations who provide health and wellbeing support services to local businesses, where employers could learn more about those services and network with their peers to share ideas and experiences with each other. Marketplace holders were: Able Futures, Health in Mind, Grow, RDP International, Mind in Brighton and Hove, One You East Sussex, Wave Community Bank, Care for the Carers, Healthy Ageing Project – HAIRE, Holding Space and ManKind.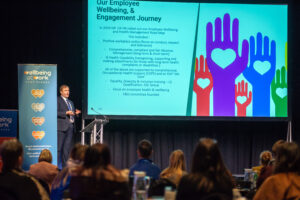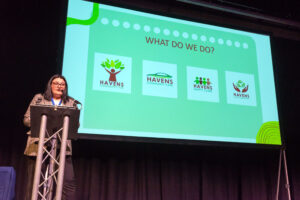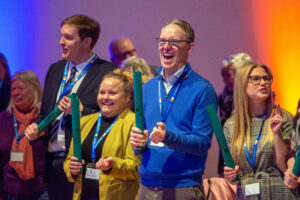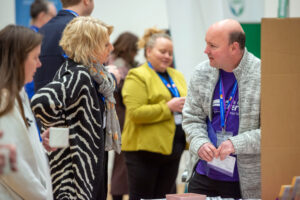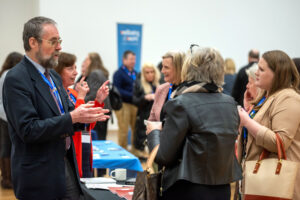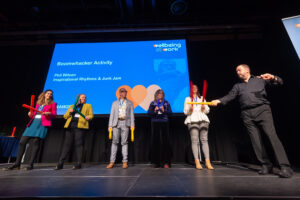 The East Sussex Wellbeing at Work Programme is open to any business, from any industry, located in the county that has more than two employees. For more information about the programme and how to register can be found at https://wellbeingatwork.eastsussex.gov.uk.
Or you can contact the team at healthy.workplace@eastsussex.gov.uk for any questions.
Award Winners:
Silver Award – Servomex Group Ltd (who also received Bronze Award, and is the first employer in the county to reach Silver).
Bronze Award – Wealden District Council, Feilo Sylvania UK Ltd, FSN, St Wilfrid's Hospice, East Sussex County Council, Sussex Housing & Care, Knill James LLP (who also received Commitment Award).
Small Business Bronze Award – Ridgeview Wine Estate, Care To You Healthcare, Havens Community Hub, Gradient Consultants Limited, Industrial Construction (Sussex) Limited, The Village Shop & Café, Affinity Select Insurance Services Ltd (who also received Commitment Award).
Commitment Award The Prideaux Group, Design Specific Ltd, Age UK East Sussex, Wealden Community Care, Fieldskill Ltd, Spring Care PA's Battle Limited, APAC Ltd, Community Supporters, Adams and Remers, East Sussex Recovery Alliance.
See all the awarded employers here.
See the press release: Awards celebrate healthier workplaces | The Newsroom (eastsussex.gov.uk)