Our New Website is Here!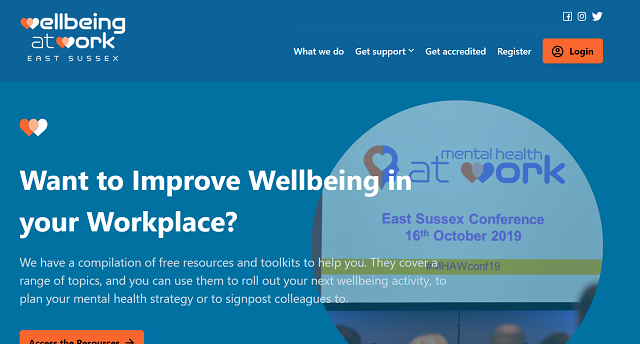 Welcome to our new website for local employers.
As part of our Wellbeing at Work Programme run by Public Health at East Sussex County Council, this website contains a compilation of free national and local resources to help you improve wellbeing in the workplace. Most resources are relevant for employers of all industries and sizes, and there are a few targeted to some industries and to sole traders. Covering a range of topics, from mental health and musculoskeletal health to management, ageing well at work and policy templates, you can use these resources to roll out your next wellbeing activities, to plan your mental health strategy or to signpost colleagues to. Browse our resources here, and if you don't find something you are looking for please let us know and we will add.
On this website you will also find information and booking on our free training offer and upcoming events, and the previous editions of our monthly Wellbeing at Work Newsletter.
Wellbeing at Work Awards Coming Soon…
Later this year, a free awards scheme will also be launched as part of the Wellbeing at Work Programme. The East Sussex Wellbeing at Work Awards recognises employers' commitment to improving employee wellbeing through an accreditation scheme. This scheme also provides a framework for improving health and wellbeing in the workplace in East Sussex, and it will be the county standard of good practice.
It takes a holistic approach, covering a range of seven topics: 1. Physical Activity and Active Travel; 2. Healthy Eating; 3. Musculoskeletal Health; 4. Mental Health; 5. Sickness Absence, Return to Work and Prevention; 6. Alcohol and Substance Misuse, and Stop Smoking; 7. Leadership, Management and Workplace Culture.
The scheme will guide employers on a journey of health improvement through three different award levels – Bronze, Silver and Gold Awards. These awards are available for Small Businesses (2 to 49 employees) and for Medium and Large Businesses (50 or more employees) on different pathways, and each level requires meeting a set of criteria across those topics.
The Bronze Award sets up the foundations for a healthy workplace. An employer working towards Bronze can expect to put in place the initial building blocks needed to pave their wellbeing journey. Minimal financial investment is needed at this level. Once a workplace has achieved this award, they can decide whether to progress on to the following awards, Silver and Gold, at their own pace. At Gold level, wellbeing is expected to be embedded in the organisation's culture, policies and ways of working.
There is also an optional entry level Commitment Award, which is open to all size employers and ideal for businesses who are only starting their work on improving employee wellbeing. To achieve this award, the workplace must undertake an employee health needs assessment survey and highlight one action to take forward from the results.
On this website you can learn more about how to take part in the accreditation when it's launched, and you can register your interest to take part.
As we recover from the COVID-19 pandemic, looking after our colleague's and employee's health and wellbeing at work has never been more important. Holding a Wellbeing at Work Award will set your organisation apart from competitors as an employer and business of choice, whilst also enjoying the benefits of increased productivity.