More than 1 in 10 employees are affected by gambling harms in the UK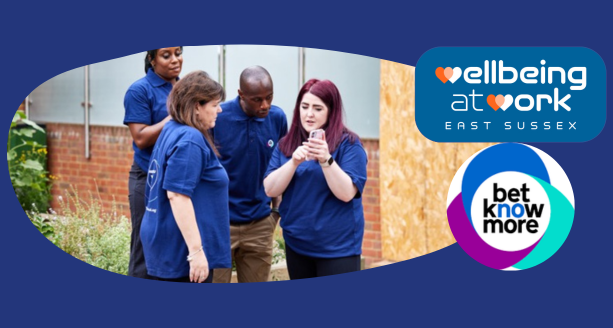 Blog written in collaboration with Katy Wilson at Betknowmore.
This worrying statistic from UKHSA (formerly Public Health England) suggests that even the smallest company may have at least one member of their team who is affected by gambling harms, either directly or as an 'affected other'.
Whilst historically, gambling was confined primarily to land-based activities, such as casinos and bingo halls, advancements in technology have contributed to an increase in people gambling online, a trend which continued during the pandemic and is showing no signs of declining.
Changing Gambling Landscape
Gambling is now accessible 24/7. You can place bets on your phone whilst watching a football match, you can buy lottery tickets and scratch cards via an App and you can spend hours playing poker with players around the world, all without leaving your house, or even your desk!
These changes in the gambling landscape mean that gambling is now more accessible to women than ever before, but it remains true that more men are at risk of experiencing gambling harms, and potentially becoming addicted. For example, data gathered as part of the Health Survey for England in 2021 suggests that men are more likely to be identified as engaging in at-risk gambling activities, or experiencing harms from gambling, than women (4.4% of men and 1.1% of women).
Further research commissioned by GambleAware, again published in 2021, indicates that 78% of active online betting accounts, and 95% of the highest spending accounts (£5k+ per year) are held by men. Also, the online betting sector derives an estimated 94% of its revenue from men.
Digital Wellbeing
Responsible employers typically focus on four pillars of employee wellbeing: mental; physical; financial; social. But in this era, they should also consider digital wellbeing. That is to say, are their people striking the right balance between the amount of time spent online and offline and are the benefits of mobile connectivity outweighing the drawbacks?
People who gamble online may well be at risk of having lower levels of digital wellbeing – they may play a variety of different games, gambling more often and for longer periods of time and spending at higher levels, often more than they can afford.
We are in the middle of a technological revolution, and new and innovative methods of gambling are continually emerging, such as crypto-based online gambling. Recent research into 40 different cryptocurrency-based online operators revealed that 37.5% offered no safer gambling tools to their users, and that 64.7% continued to send out promotional material to users who had shown signs of impaired control when gambling. And men are, once again, more likely to participate in this form of online gambling.
How to Help
The evidence is clear – men are at an increased risk of experiencing gambling harms if engaging in online gambling, so what can employers do to better support and protect their people?
Implement a gambling policy in your workplace – empower people to come forward if they have concerns about their own, or someone else's, gambling and to seek support
Include signposting information on your intranet / noticeboards so that people can find the most appropriate support service according to their needs. Betknowmore UK's website contains a handy summary: https://www.betknowmoreuk.org/help/support-services
Consider restricting work devices so that they cannot be used to access gambling sites
Review what gambling activities take place in your organisation, such as lottery syndicates, sweepstakes on major sporting events etc, and decide if these are appropriate
Provide awareness training to leaders, wellbeing champions and mental health first aiders to enable them to identify people who might be at risk from gambling harms. The East Sussex Wellbeing at Work programme has joined up with Betknowmore to run a 'Introduction to Gambling Harm in the Workplace' workshop, which is free to attend for all organisations who are registered to the programme. The workshop will be on Tuesday 17th October 2023, if you wish to book a place, or find out more, please click here. 
Betknowmore UK
Betknowmore UK is a charity helping people take control of their life back from gambling. Established in 2013, its mission is to address gambling related harm in UK communities through the provision of award-winning services and training which embrace the insight and knowledge of people with lived experience of gambling dependency and recovery. Betknowmore UK is also a UK-wide provider within the National Gambling Support Network (NGSN).
Worksafe is just one of their services, offering employers and businesses the advice, training and tools that employers need to protect their business and support the mental, physical, financial, social and digital wellbeing of their people. Contact worksafe@betknowmoreuk.org for more information.