Grow's Nature and Wellness Days – a case study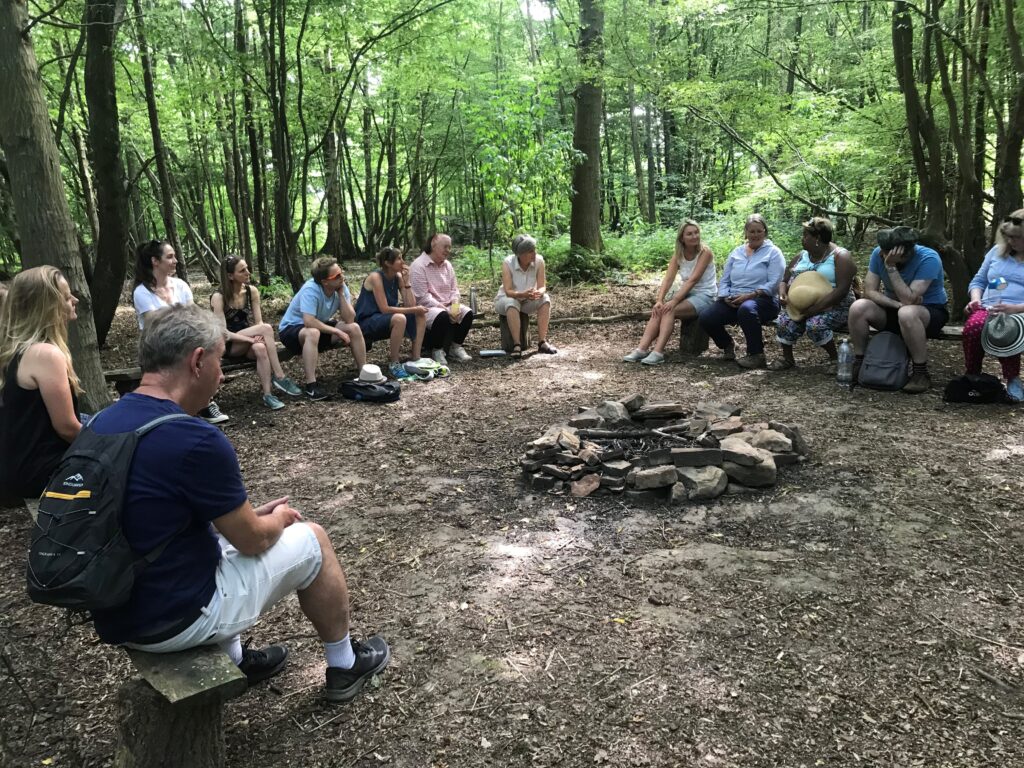 Blog in collaboration with Julie Wright at Grow
Nature has a unique ability to not only bring grounding in stressful times, but also increase our creativity and a sense of wonder and appreciation for what is available to us. This has been backed up by recent research conducted by the Mental Health Foundation, which identified that going for walks outside was one of the top stress coping strategies during the pandemic. Research from the Office for National Statistics has also shown the link between nature and wellbeing.
Chartered Institute of Personnel and Development (CIPD) stated: "The pandemic has had a dramatic impact on organisations, prompting them to transform their working practices on an unprecedented scale to look after people's health, safety and wellbeing". Their research found that 80% of organisations have seen an increase in demand for wellbeing support.
The increase in homeworking has had many benefits, but there has been an increase in isolation and loneliness. There is an appetite for in-person team building opportunities, and a strong and innovative wellbeing offer is essential for organisations to attract and retain staff. Employers can support their workers to be more connected to nature, and benefit from increased creativity and reduced stress, through organisations like Grow.  They offer a range of innovative ways to support staff wellbeing in stunning Sussex environments that reconnect, nurture and revitalise.
Grow's programmes – running for over 10 years – have been independently evaluated by the University of Brighton and are proven to improve people's wellbeing and resilience – leading to increased enjoyment of work roles, improved relationships within teams, increased staff productivity, motivation, confidence, energy, sense of belonging and purpose.
Julie Wright and Jo Wren, co-founders of Grow, are passionate advocates for the power of nature connection. 14 years ago, they realised there were no local organisations offering structured wellbeing in nature programs and, in partnership with the National Trust, developed Grow as a way to make this revitalising resource more accessible to others.
Coming out of the pandemic and its profound impact on people's health, Grow was keen to use their wealth of skills and experience to further develop their nature-based Workplace Wellbeing offers.  These are tailored to each organisation's unique needs, and enable employers to enhance the sense of connection, wellbeing and resilience of their workforce.  Delivering these in partnership with Yvonne Rivers has added something special to the mix.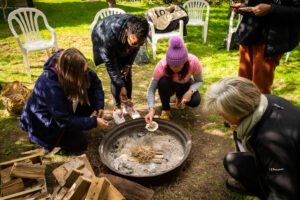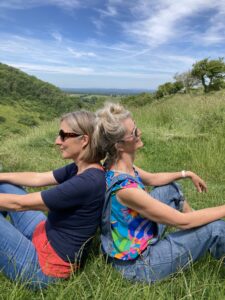 East Sussex County Council's Public Health staff recently benefitted from Grow's innovative programme. The team hadn't met in person for a long time and had experienced an increase in workload during the pandemic. The team asked Grow to facilitate outdoor sessions which would give staff space away from work demands to reflect, look at challenges with fresh eyes, connect with each other in an honest and open way, have fun and explore how to use nature as an ongoing source of resilience and relaxation.
A personal story
Hayley Martin, a colleague in Public Health at East Sussex County Council (ESCC), shares her experience of taking part in two outdoor sessions facilitated by Grow:
How did you feel when ESCC suggested those nature and wellness days?
I was really happy, yet also intrigued    We don't normally receive offers such as these in work time, specifically just to think about our wellbeing. I believe this was made possible, due to some funding from Health Education England to support the recovery and wellbeing of the health workforce coming out of the pandemic. This felt like a real treat, and also felt good to know that our employers valued our wellbeing. I have never experienced a nature and wellbeing day, but I've always loved the feeling of being in nature, so was hopeful this was going to be a good investment of my time.
What did you think about the setting and the activities?
The workshops were held in a wonderful woodland on a farm, a beautiful setting, which offered peaceful and cool shelter from the beating sun. The activities were really enjoyable, they allowed you to just be present and connect with the natural environment. There was no pressure to do anything you didn't want to, but everyone was invited to have the opportunity. And despite some initial laughs, everyone did engage and give everything a go. And yes we did have the opportunity to hug tree's, and it was such a lovely feeling of peace, connecting with nature, that had stood there for many years, and is always there around us through everything. But we don't always notice it, when we're in our own heads and fast paced worlds. Activities includes walks, mindful relaxing activities, and making creative installations! The power of nature can be very enjoyable, peaceful, and very healing if that's what's needed.
What were the benefits and impact of the nature and wellness days for you?
I was so grateful my employer gave us the time and space away from work, to truly focus on taking care of ourselves. This came at an important time for me, as despite having a work role to promote health and wellbeing, I became more aware that I had become out of balance with my own wellbeing. The natural environment, the activities and space to consider my own needs, have been really powerful in helping me on a journey to restore a healthier work life balance, and happier Hayley! The benefits for me are a sense of greater wellbeing, happiness and contentment in my work, and for my employer will be a happier more productive employee. Win-win if you ask me!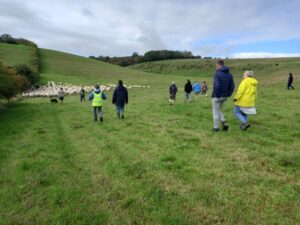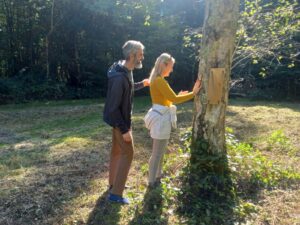 Other colleagues from NHS Sussex have also shared their experience from taking part in Grow's outdoor sessions:
"I think that in the modern times, with people working from home/across Sussex and there being very little physical interaction, it is really beneficial, and you could even argue pays for itself if people stay in post longer."
"It was great to get away from the computer and spend some time together with colleagues without work pressures. Grow facilitated the session so well, it felt like 're-setting', very helpful."
"I found the day great fun and really valuable, dare I say, much more helpful than "normal" awaydays.  Meeting up with colleagues again was fab."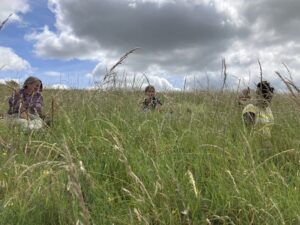 Throughout the year Grow offer a wide variety of activities – explore beautiful and unusual landscapes, enjoy team building activities, natural crafts, mindfulness, fire-lighting, guided relaxation, foraging, shepherding, outdoor cooking, wild art, etc.  All in stunning surroundings – partnerships with National Trust, Sussex Wildlife, South Downs National Park and others enable access to many unusual venues. Winter can be a wonderful time to enjoy days out – beautiful walks or festive wreath making, crafts such as whittling or making natural gifts, cosying up with open fires and mulled apple juice.
Would your staff benefit from:
the opportunity to relax, unwind, connect and have fun in nature?
time and space for reflection, to disconnect from screens and the pressures of work, and explore issues with a fresh perspective?
If so, contact Jo Wren at jo@growingwellbeing.org.uk for more information. You can learn more about Grow's nature-based Workplace Wellbeing offers on their website: www.growingwellbeing.org.uk/workplace-wellbeing