East Sussex Wellbeing at Work Awards Now Open!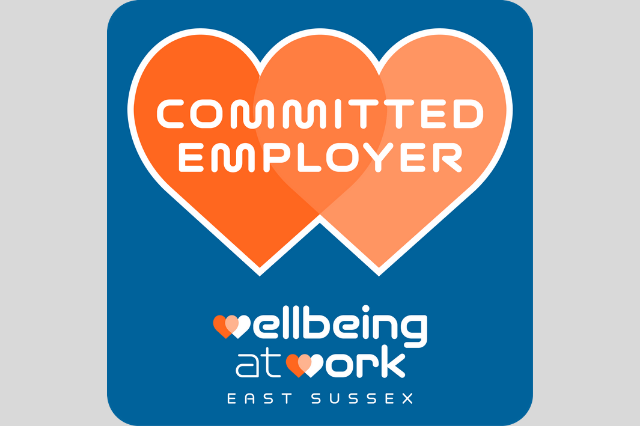 The East Sussex Wellbeing at Work Awards recognise your commitment, as a local employer, to supporting employee wellbeing through an accreditation programme. The Awards are now open to all East Sussex employers of all industries and sizes to apply. You just need to register on our website. Once registered, we'll schedule a welcome call to talk you through the process of being awarded, explore your organisation's wellbeing experience and expectations so we can best support you on your journey.
This accreditation programme, operated by Public Health at East Sussex County Council, is the county standard of good practice and it provides a holistic framework for improving health and wellbeing in your workplace across a range of topic areas:
Physical Activity and Active Travel;
Healthy Eating;
Musculoskeletal Health and Health & Safety;
Mental Health;
Sickness Absence, Return to Work and Prevention;
Alcohol, Substance Misuse and Stop Smoking;
Leadership, Management and Workplace Culture.
The programme guides you on a journey of health improvement through three different award levels – Bronze, Silver and Gold Awards. These awards are available for Small Businesses (2 to 49 employees) and for Medium and Large Businesses (50 or more employees) on different pathways, and each level requires meeting a set of criteria across those topic areas.
The Bronze Award sets up the foundations for a healthy workplace. Working towards Bronze, you are expected to put in place the initial building blocks needed to pave your wellbeing journey. Minimal financial investment is needed. Once you have achieved this award, you can decide whether to progress on to the following awards, Silver and Gold, at your own pace. At Gold level, wellbeing is expected to be embedded in your organisation's culture, policies and ways of working.
There is no set time scale for you to complete any award – it can be as slowly or speedy as you wish, and the whole process is managed digitally through our online portal. We appreciate that organisations will have different goals and resources to support their journey towards a Wellbeing at Work Award.
There is also an optional entry level Commitment Award, which is open to all size employers and ideal for businesses who are only starting their work on improving employee wellbeing. To achieve this award, you must undertake an employee health needs assessment survey and highlight one action to take forward from the results. You can learn more about the award levels here.
Undertaking an employee health needs assessment within your organisation is an important task to ensure that your employees' voices are heard, to understand more about your workforce and to measure the impact of any health and wellbeing improvements you are making. That's why it's a mandatory criteria at each award level of the accreditation programme. We provide a template for your organisation to use, as well as guidance on how to use it and analyse the results.
As part of the East Sussex Wellbeing at Work Awards, we provide free Workplace Health Champion Training delivered in partnership with One You East Sussex. Having a workplace health champion in your organisation can help you drive forward your accreditation journey and wellbeing improvements. You can read more about this and other training available as part of the programme here.
We already have a few local employers going through the accreditation programme. Join them as one of the first employers in East Sussex to be awarded. Holding a Wellbeing at Work Award will set your organisation apart from competitors as an employer and business of choice, whilst also enjoying the benefits of increased employee wellbeing and productivity. Register now.
If you have any questions or would like further information, contact us at healthy.workplace@eastsussex.gov.uk